HOW IT WORKS
GoGoGrandparent turns on demand transportation companies like Lyft into services that help families take better care of older adults.
Step 1:
CALL 1 (855) 480-2733 and wait to hear: "Thanks for calling GoGoGrandparent"
Step 2:
PRESS 1 to immediately request a car to your home
PRESS 2 for a car to where we dropped you off last
PRESS 3, 4 or 5 for a car to a custom pick up location (once you're registered please give us a call to set these up)
PRESS 6 to order a ride with an operator
PRESS 0 to speak with an operator about scheduling rides in advance or anything else
Have questions? Call (855) 480-2733
Demo How it Works!
Put in your phone number and hear how it works. This is just a demo, so feel free to play around.
Note: Please make sure your connection is not behind a firewall.
Custom Pick Ups
Add more locations to your touch tone menu
Scheduled Services
Set up automatic rides for fixed appointments
Voice Commands
Say 'home', 'operator' or 'last location'.
Stay informed, stay safe.
Stay informed with by-the-minute updates

Text a GoGoGrandchild anytime with questions..
These features coming soon!
Get a custom grocery list delivered

Set up their touch tone menu for meals

Have a caretaker check up on them in their home
Check Pricing & Availability
We are available throughout the United States and Canada.
As your agent, GoGo orders and monitors rides on your behalf through ride sharing networks like Lyft.
That means the total ride fare will be our concierge fee plus the ride share network's fare. Our Concierge Fee covers our operator's arrangement and oversight from when we start monitoring a service to when we stop.
GoGoGrandparent Concierge Fee
$0.27/minute
Are we available near you?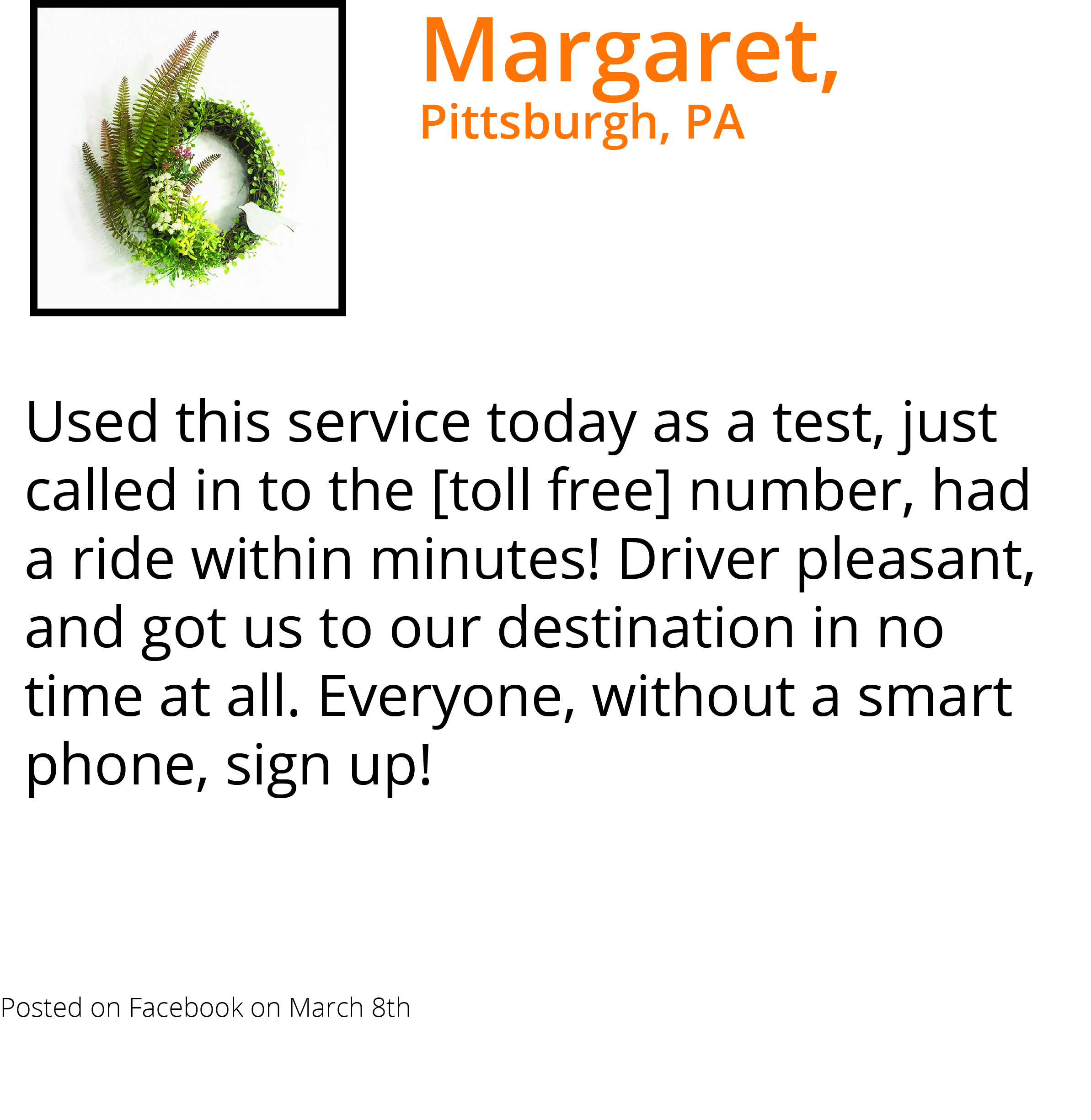 "I love to drive and still do but my eyes aren't what they used to be. I cannot see at night, and we all know that everything beautiful happens at night.
I know that I cannot go to the operas, symphony, ballet at night and I was feeling distressed up till now. With this service I don't have to worry about how I'll be transported to these events. Long may you reign."
"I'm sure that you're flooded with emails from happy customers. Add me to the list. In just a few days, you have changed my 92 year old Dad's life. He is zipping all over Pasadena without having to ask anyone. I get the texts about his trips and know just where he is.
You have given him a sense of control that he hasn't had for awhile. Such a brilliant idea!"